Event detail
The Grain & Hop Store, 69-76 Regent Street, Cambridge, CB2 1AA Show map
Not going to MIPIM in 2017? We have just the ticket you need to the hottest social event in the property calendar this side of the Channel.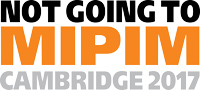 You can still get into the spirit of MIPIM by attending our second annual Not Going to MIPIM party in Cambridge. We'd love you to join us and other leading property professionals in Cambridge.
It's a popular event so make sure you request your free ticket early. You can nominate a colleague too, but additional tickets are subject to availability.
It's simple, just fill in fill in your details below to request your ticket.